Dr. Crockett Grabbe wins 3rd Annual 9/11 Physics Debate
---
March 14, 2016 - Einstein's Birthday
3rd Annual 9/11 Physics Debate
Broadcast on Dr. Kevin Barrett's radio show
http://noliesradio.org/archives/111778
Debate Resolution: The Bush Story of 9/11 about the complete collapse of
the World Trade Center towers violated Newton's Laws of Motion
Dr. Crockett Grabbe (PhD, Physics, CalTech, with honors)
Author of 13 books including "How the WTC was Really Demolished"
Anatomy of Mass Murders and National Swindle of the World Trade Center
Who was ACE Elevator Company - working in the shafts 1994-2001/9/11
Over 1000 scientific publications from over 40 years of research
Challenger Requirements: 1) PhD in Physics from an accredited university
2) At least 10 papers published in independent scientific research journals or Hirsch Index or i10 Index of at least 10.
3) Membership in the American Physical Society or international equivalent
Qualified candidates who want to defend the Bush Story of 9/11 (BS911)
please respond with curriculum vitae to
info@ANETA.org
The winner (if a 2nd contestant is found) is decided by vote of the physicists invited from 28 universities and 2 societies
Winner will receive .911 Bitcoin (now worth about $480) for charity or his/her research.
For the 3rd year, no PhDs in Physics with Hirsch >=10 have been willing to support the Bush Story of 9/11 (BS911) in debate.
Dr. David Griscom (PhD, Physics, Brown Hirsch =52) won in 2014 and 2015 by default.
Dr. Grabbe says that the BS911 violates all 3 of Newton's Laws of Motion.
www.911Debate.org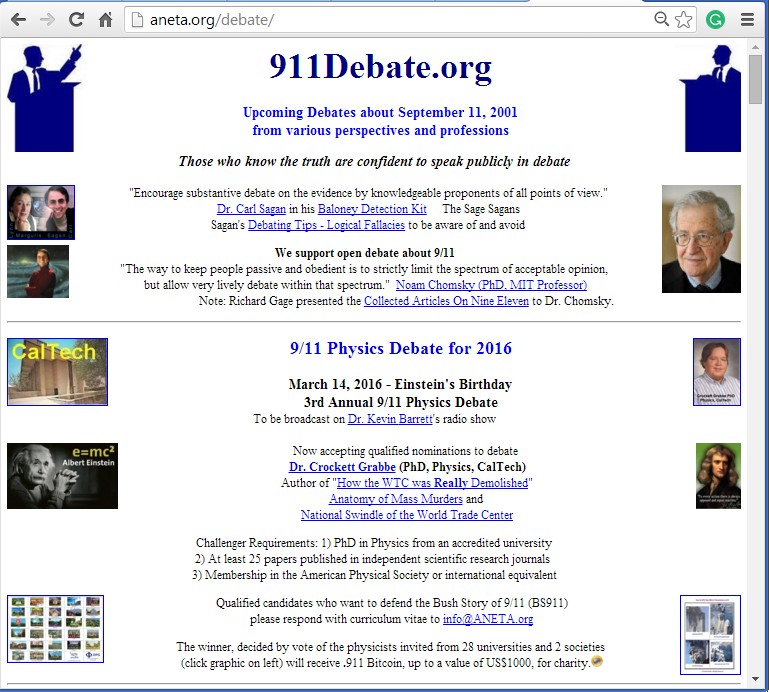 Comments